NTFA 16 DESCRIPTION
The NTFA16 is a 16 channels timing filter Amplifier in a single NIM module, with differential input and completely programmable parameters. In fig.1 is shown a block diagram of a single channel of NTFA16 .

Fig. 1 Block Diagram of an NTFA16 channel
The main function of the NTFA16 is to process the signals coming from the charge preamps with differential output.
The first section is composed of a differential receiver that generates a single ended signal from the differential input.
A copy of the single ended input signal is also made available on the "BUF. INPUT" connector on the front panel of the module.
The subsequent sections are composed of a derivative CR network with Pole Zero Cancellation, four different values of the C-R Time constant can be selected: (100, 220, 470, 1000) ns .
The section that follow are: a variable gain circuit, a second-order integration section, the DC restore circuit and the output buffer.
The gain are selectable in 4 Coarse gain steps and in a 191 Fine gain steps.
The integration values are also selectable in 4 values, (100, 220, 470, 1000 ns ) independently from the value of the differentiation.
The D.C. restorer finally keeps the DC output level close to zero even in the presence of input low-frequency shifts of the base line.
In the channel circuits is also present a polarity selection which it allows to work with negative or positive signals.
There is to consider that the output can only provide positive signals due to asymmetric DC restorer circuit.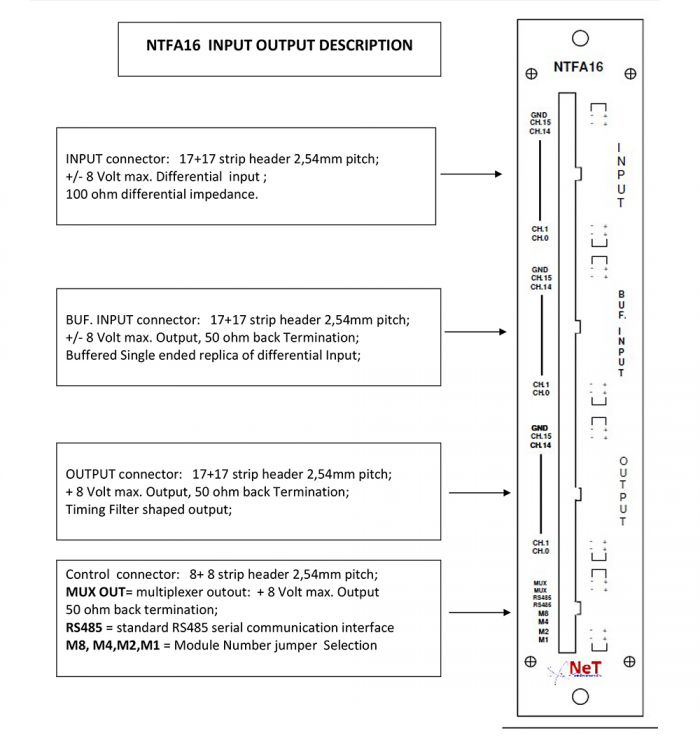 FEATURES
16 CHANNELS ;
1 NIM UNITS MODULE;
+/- 8 Volts DIFFERENTIAL INPUT;
INPUT POLARITY SELECTION;
4 DIFFERENTIATION VALUE SELECTABLE: ( 100, 220, 470, 1000 ns );
4 INTEGRATION VALUE SELECTABLE: ( 100, 220, 470, 1000 ns );
4 COARSE GAIN VALUE SELECTABLE: (1, 4, 16, 64 X);
191 FINE GAIN VALUE: ( 1 TO 4 X );
MULTIPLEXED OUTPUT;
ALL CHANNAL PARAMITERS PROGRAMMABLE THROUGH RS485 SERIAL INTERFACE;
PARAMETERS AUTOMATICALLY RESTORED AT POWER ON;
PERFORMANCES
INPUT COMMON MODE REJCTION > 40 dB;
EQUIVALENT INPUT NOISE < 20 uV at 100ns INT;

INTEGRAL NON LINEARITY < +/- 0,05 %.